Rifle stick - Shooting stick - Stalking stick
The Forester's rifle stick - Rifle sticks as art - Excellent support
Please have a look at the photos of some of our rifle stick's! Look at the video of the bending test!
I have produced rifle sticks since 1985 and I have now decided to close my business.
To all my customers - thank you for choosing the Forester´s rifle stick!
Best regards,
The forester
Applied art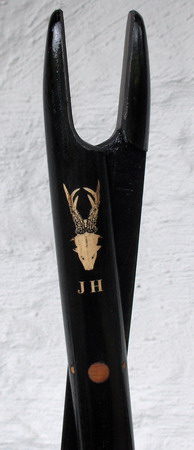 The rifle stick is designed by forester Truls Wiberg, who has improved his skill in
woodworking in Dalarna, following the old tradition for sleight in Sweden.
The first one, a single stout stick, was made out of yew and a piece of a red deer antler in 1985.
A unique product
The design combines aesthetics with functionality and gives a steady hold unto the rifle
in the U-shaped fork witch is lined with rubber to protect the head of the stock.
The light coloured bolt of hardwood lights up beautifully against the darker surface.
The legs are kept together by two pairs of strong magnets.
Every staff is signed by the artist. The production is limited.

When not occupied with woodwork he is drawing or writes stories about nature and
hunting or develops databases and work as a consultant with forestry administration and IT.
Deer stalking
The rifle stick is specially handmade to fullfill the deer stalkers requirements.
But it is also suitable to use for ordinary hunting or a battue.

Use a wooden bipod when you go hunting - Good luck!
Best regards, Truls Wiberg
Hand made rifle stick of ash and stained dark green. Laser engraving with initials and Roe buck drawn by Truls Wiberg.
"'It is all so simple. You can learn from an ordinary bamboo leaf what ought to happen. It bends lower and lower under the weight of snow.
Suddenly the snow slips to the ground without the leaf having stirred. Stay like that at the point of highest tension until the shot falls from you.
So, indeed, it is: when the tension is fulfilled, the shot must fall, it must fall from the archer like snow from a bamboo leaf, before he even thinks it."

Awa Kenzo
Two of our customers sent us theese nice photos:
You can for instance have the rifle stick laser engraved with your monogram. We help you with drawings and the layout.
The Forester's rifle stick is handicraft and is comprehended in the Council Directive 93/98/EEC of 29 October 1993
harmonizing the term of protection of copyright and certain related rights

Synonyms: shooting sticks, rifle bipods, walking pole, trekking pole, walking stick, staff, cross sticks, deer stalking sticks, thumbstick or thumb sticks